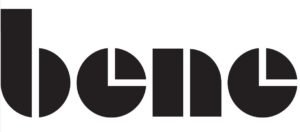 Bene GmbH
Headquarter: Lower Austria
Federal states: Vienna, Lower Austria, Upper Austria, Salzburg, Tyrol, Vorarlberg, Styria, Carinthia
Industry sectors: Industry & production, Trade & wholesale
Status: Recertified
75 %
Export share
Europe, Middle East, Africa
As an international supplier for the design and creation of inspiring office and work environments, Bene is a byword in over 40 countries for the successful symbiosis of office furniture, space, and architecture, as well as design, quality and innovation. Bene develops and produces tailored solutions for all company sizes – from single person enterprises to SMEs and global corporations. The Bene Group headquarters and production site are located in Waidhofen an der Ybbs. This means that development, design and production, as well as consultation and sales, are united under one Austrian roof. The Bene headquarters are not only the head office, but also the "think tank", where the innovative room concepts for offices are tested directly in the company.
Bene is represented in more than 40 countries with a dense sales and distribution network of own sites and authorised retailers, and offers its global customers regional access to all services. With its showrooms in Vienna, Berlin, London and Paris through to Dubai and Sydney, Bene is continuously implementing international reference projects, and impresses with its innovative strength combined with the highest quality of service. In this respect, more than 130 international awards over the years underline Bene's design and innovation competence.
Products and services
Comprehensive product portfolio
Bene has a comprehensive product portfolio which covers all dimensions of modern working environments and office projects of all sizes. As a turn-key service provider, Bene offers a comprehensive product portfolio which is enhanced by a well-balanced range of major brands. The product range serves all zones and areas of a modern office, from back office and management, to wall systems, media equipped conferencing solutions, office and conference chairs, as well as upholstered furniture for lobbies and lounges. The high standard of functionality, quality and design can be seen and felt in every product.
The office as a key to success
In times of new communication technologies, which fundamentally allow work at any place and any time, the office serves as a physical anchor point for employees. Good office design promotes concentration, as well as communication, inspiration and recreation. According to the motto "Choose the place you need", Bene offers attractive and functional products and furniture systems tailored to individual daily routines, job profiles and company processes.
Driver of innovation
In close cooperation with designers, trend researchers and experts, Bene continues to develop its office and product concepts. In this respect, Bene sets trends with its concepts, products and services and has shaped the modern working environment for many decades.
---
You might also be interested in