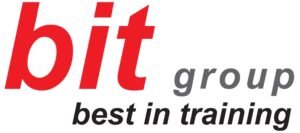 bit group GmbH
Headquarter: Styria
Federal states: Vienna
Industry sectors: Education, research & development
Status: Recertified
The bit group is Austria's largest private education company with over 30 years of experience in high-quality, solution-oriented training and qualification services.
As an innovative and effective partner, bit group focuses on customized solutions in all business segments to ensure a sustainable success of its customers. In order to optimally implement the individual requirements and needs of the customers, the bit group accompanies them holistically in all questions concerning areas such as knowledge, education and development. In doing so, the company always acts in a customer-oriented and practical manner according to the highest quality standards.
Products and services
The spectrum of topics ranges from IT user training over specialized technical content and certifications to strategic, labor market policy projects and training content on behalf of numerous public institutions, private customers and companies.
Locations:
– Vienna
– Linz
– Salzburg
– Klagenfurt
– Villach
---
---
You might also be interested in