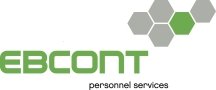 EBCONT personnel services GmbH
Headquarter: Vienna
Federal states: Vienna
Industry sectors: Service providers
EBCONT personnel services are a professional provider of personnel services in the commercial, industrial and technical sectors. The company combines innovative and customised solutions in personnel management with its consultants having several years of experience. Regardless of the industry and job profiles, manpower and companies that are compatible with one another are brought together.
EBCONT personnel services provide optimal services with its workforce of highly qualified and result-oriented consultants and experienced employees. These services are aimed at the economic success of the customer as well as the development opportunities of each and every employee.
Products and services
EBCONT personnel services take over each step of the recruitment process and select only those employees who are compatible with the customer and his requirements. The scope of services covers the following aspects:
• Temporary employment: qualified employees for order-related deployment to cater to peak load requirements, to cover the needs for project orders as well as to provide replacements during the holiday season, in case of illness and during parental leave periods.
• Absorbing personnel: the no-risk recruitment of commercial personnel, technicians, specialists, semi-skilled workers and experts with special qualifications.
• Personnel recruitment: EBCONT personnel services takes over the responsibility of searching for potential qualified employees. Based on thorough pre-selection, those applicants can be chosen who best match the job profile.
• Vacation replacement: Temporary employees are provided for bridging personnel bottlenecks during the holiday season.
• Payroll system: EBCONT personnel services conclude an employment contract with selected employees and takes over the responsibility of payroll accounting and payment on behalf of the customer.
---
You might also be interested in