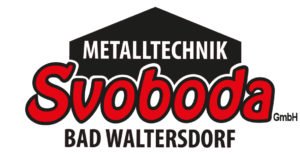 Svoboda Metalltechnik GmbH
Headquarter: Styria
Federal states: Styria
Industry sectors: Building Industry, Service, Trade, Luxury Goods
3 %
Export share
Deutschland
Our family enterprise was founded in 1988 by Mr. Erich Svoboda in Bad Waltersdorf in his garage and started with 2 employees. The focus at that time was on wooden balconies.
In 1994 his son, Thomas Svoboda, joined the company.
In 2003 wooden balconies were combined with aluminium,stainless steel and glass for the fi rst time.
In 2004 Thomas Svoboda took over the company Svoboda KGwhich then had ca. 10 employees.
Due to the expansion a new metalworking company with a production area of more than 6,200 m² was built in the neighboring town of Sebersdorf. Included on the premises is one of Austria's largest public gardens which is open to visitors around the clock. In October 2010 the new premises began production and Svoboda KG became Svoboda GmbH.
Distribution of the products expanded to other areas as did the demand for them which resulted in Svoboda GmbH growing from a company with 10 employees to one with 90. The focus is now on the processing of the materials aluminium & stainless steel.
The product spectrum also extended and covers now a lot more then fences, balconies & railings. So the company was renamed to Svoboda Metalltechnik GmbH "Svoboda Metal Technology GmbH", to have a fitting name for its wide range of products.
In the middle of the Styrian thermal region we have now been producing our products for decades. When doing so, we take special care in maintaining our reputation for high quality. The fact that we produce exclusively in Austria speaks for itself.
Products and services
The company Svoboda is a specialist for the production and distribution of high quality fences, balconies, railings, terrace roofing, carports, doors, summer & winter gardens, flooring and stainless steel pools.
Our customers can also rely on us not only for balcony and railing constructions but also for extras such as special constructions, all from one source.
With more than 300 RAL colors and special colors from rustic to classic customer requirements can always be met.
Nature—the biological role model—innumerable times has our ALU PEARL EFFEKT coating (lotus principle) proved itself to be maintenance-free and self-cleaning for many years.
Due to our state of the art production machinery and CNC machines we can produce our "showpieces" efficiently, in high quality and individually.
We will gladly advise you, deliver your product in first class hand-crafted quality and assemble it for you expertly.
---
You might also be interested in