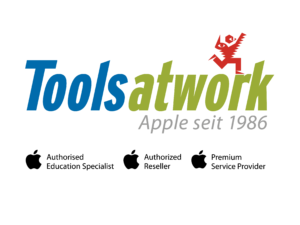 Tools at Work Hard + Soft Vertriebsges.m.b.H.
Headquarter: Vienna
Federal states: Vienna
Industry sectors: Trade & wholesale, IT, online service providers, telecommunications,
The experts at ToolsAtWork have had experience with Apple products since 1986, they know the advantages and how their products are best used. That is why they always find the perfect solution for their customers! ToolsAtWork carry all Apple Products, ranging from the Mac Pro to the Apple Watch. Furthermore, they also stock smart products and apps for security and household technology, which are controlled by Apple devices.
At the Apple-Shop Zirkusgasse 40…
… they offer competent advice. Together with the customer, they determine their needs and find individual solutions that best suit them. Customers receive the solutions that fit their requirements perfectly.
Apple Authorised Education Specialist
ToolsAtWork has been active in the educational market for many years and has supplied countless schools and universities, who can purchase Apple products with the added plus of being a BBG partner. ToolsAtWork gives advice to lecturers and students on how to purchase products at educational prices. They also ensure that systems are stable and work smoothly, from server support and installation, to technical support (MDM and DEP) and installing WLAN.
Smart solutions for security and household technology (KFE certified)
Security at home and at work. Together with the customer a specialist adviser will find the best security system to suit any location, from concept to cabling and installation to function control and maintenance.
Apple Premium Service Provider
In 2020, ToolsAtWork was once again authorized by Apple as a premium service provider and praised for their excellent service and outstanding technical expertise. From warranty processing, repairs, data recovery and loan devices, ToolsAtWork are happy to help.
Audio and video technology …
… have been a core component right from the start. Their experience can be traced back to the start of digital audio/video technology. TaW is known to fulfill customer requirements, offering scalable solutions and they pride themselves on making customer service a priority.
Products and services
Service
__Apple
• Planning Apple projects
• Wiring, installation
• Training on Apple products
• Apple repairs
• Apple warranty processing
• Insurance processing
• Loan devices
• Data recovery
• Data erasure with certificate
__Fast in-house iPhone service
iPhones are usually repaired in-house. Spare parts are mostly in stock (displays, batteries …). Repairs take around 1 hour. In the event that a spare part is not in stock, customers receive a second appointment or a rental phone.
Technicians are certified by Apple and offer a fast and reliable repair service
• In-house and on-site support
__Audio / Video
• Installation of audio / video systems
• Studio planning
• Practical know-how directly from the industry
• Training for editing and post-production of videos
• Installation, testing and commissioning of video systems
__Electrical engineering / Security (KFE certified)
• Control technology
• Alarm systems
• Video systems
• Complete system setup
• Wiring and installation
• Functional check and maintenance
ToolsAtWork fulfill small jobs and big projects with the same commitment – these are the quality standards of the company
---
You might also be interested in