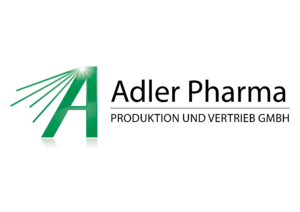 Adler Pharma Produktion und Vertrieb GmbH
Headquarter: Salzburg
Federal states: Salzburg
Industry sectors: Pharmaceuticals, health & biotechnology
Status: Recertified
35 %
Export share
EU, Switzerland
Adler Pharma produces homeopathic medicines, dietary supplements and cosmetics according to Good Manufacturing Practice (GMP) guidelines. Sales are particularly successful in Austria, Germany and Switzerland, and also in other EU Member states in accordance with prevailing laws on pharmaceuticals. Major business partners are pharmacies and pharmaceutical wholesalers.
Adler Pharma was founded in 2000. For many people, the Adler Pharma brand has since come to epitomise Schuessler salts. Adler Pharma has offered Schuessler salts in Germany since 2004, followed by a market launch in Switzerland in 2013.
In March 2010, the construction of a new large industrial premises began in Glockner street, Bruck, totalling 2,500 m² in surface area, and advanced production was able to commence in November 2010. Since this time, the company has had its own department of research and development. The company currently employs 48 staff in two locations with an annual turnover of 11 million Euros.
On multiple occasions, it has received the climate effective (klimaaktiv) award for a CO2 neutral company premises.
Products and services
Currently, the Bruck premises produces 12 essential Schuessler remedies and 21 enhanced remedies. In a recent development, six of the enhanced remedies were successfully launched in 2015.
NEWS: Cell Complex – a new product line of six advanced remedies, each with six Schuessler salts in one tablet, has been successfully established in the last two years. This composite combination of Schuessler salts with medical indications is a response to modern lifestyles and a significant innovation in the field of Schuessler salts products.
Additional products include ointments and cream gels with diluted mineral salts, as well a sophisticated Schuessler body care line called Adler Topics.
To complete the offering, Adler has its own range of nutrient supplements called Ortho Active capsules, which can be combined with use of the 12 essential Schuessler salts.
In addition, Adler Pharma offers an in-depth literature on the subject of Schuessler salts. Furthermore, specialist and intensive seminars are regularly conducted for pharmacy staff. Information is also widely distributed to pharmacies.
Every year, Adler Pharma runs a very well-attended convention, which is a further learning opportunity for pharmacy staff who advise customers on mineral nutrients.
---
You might also be interested in