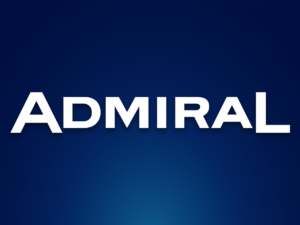 ADMIRAL
Headquarter: Lower Austria
Federal states: Vienna, Lower Austria, Upper Austria, Salzburg, Tyrol, Vorarlberg, Burgenland, Styria, Carinthia
Industry sectors: Service providers, Gaming
Status: Recertified
ADMIRAL is the operating umbrella brand of NOVOMATIC AG, an Austrian family-owned business in the top international league. As part of the globally active group and market leader in the gaming technology sector, ADMIRAL can rely on the multiple decades of experience in the fields of sports betting, gaming terminals and gaming technology. ADMIRAL has cultivated its Austrian roots for years and secures jobs for around 1,500 employees in more than 110 municipalities throughout Austria. It also makes a significant contribution to regional added value.
ADMIRAL supports domestic sports by sponsoring around 200 local and regional sports clubs and thus supports young athletes throughout Austria. As one of the leading providers of sports betting and gaming in Austria, ADMIRAL invests in secure and legal offerings, and player and youth protection is an essential component of the corporate philosophy and guiding principle for daily activities. The employees on site are professionally trained and always available to answer any questions from guests, and will provide information on possible signs of problematic gaming and betting behaviour: "So that gaming remains safe and enjoyable".
Products and services
ADMIRAL is a provider of sports betting and gaming throughout Austria.
Sports betting with ADMIRAL ADMIRAL Sportwetten GmbH, founded in 1991, offers a wide range of sports betting with more than 20 bookmakers and more than 30 different types of sports – and is number 1 in the Austrian sports betting branch business. Customers can bet online, on their mobile phones or in one of more than 250 branches throughout Austria.
Gaming with ADMIRAL ADMIRAL Casinos & Entertainment AG, founded in 2011, is the licence holder for the operation of 2,387 gaming machines at 150 locations in five federal states (Burgenland, Carinthia, Lower Austria, Upper Austria and Styria) in the context of state draws.
Responsible entertainment with ADMIRAL Sports betting and gaming are sensitive services, which can also be associated with risks. It is therefore all the more important to implement social responsibility and sustainable commitment. This social responsibility is not just rhetoric for ADMIRAL but rather a lived corporate philosophy. The contemporary ADMIRAL gamer protection programmes – Responsible Betting in the Sports Betting Area and Responsible Gaming in the Gaming Area – should not only create awareness of the possible negative effects of participating in gaming and betting, but also ensure active prevention work and accompanying measures for controlled participation in gaming and betting.
---
You might also be interested in