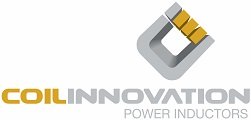 Coil Innovation GmbH
Headquarter: Vienna
Federal states: Upper Austria
Industry sectors: Industry & production
Status: Recertified
95 %
Export share
Worldwide (Europe, Asia, Africa, North & South America, Australia)
The company was founded in July 2004 by a team with a wealth of experience in this branch of business and a high degree of product knowledge.
The founders form the core operational team of the company and hold the majority of the shares. The rest of the shares are held by strategic partners, as for example the Haase Company in Graz, supplying aluminum conductors, the base material for the manufacture of air-core dry-type reactors.
For the manufacture of power inductors, modern production facilities were built in Eferding, which in the meantime have been expanded several times.
Innovation and quality are key elements of the strategic alignment of Coil Innovation. This is reflected in an advanced reactor design process, in newly-developed manufacturing and test equipment and above all in very high product quality.
Coil Innovation has become successfully established on the international market and can provide many references on all continents.
Products and services
Coil Innovation specializes in the development, design, manufacture and sales of air-core dry-type reactors for electrical power systems.
Air-core dry-type reactors are mainly employed in electric power transmission and distribution systems. They are essentially used to protect these systems or to increase their efficiency. Air-core reactors are primarily used for:
Short-Circuit or Inrush Current Limiting
Load Flow Control
Neutral Grounding
Harmonic Filtering
Shunt Compensation
High Voltage Direct Current Transmission (HVDC)
Static Var Compensation (SVC)
Voltage-Sourced Converters (VSC)
DC Smoothing
Raising Efficiency in Electric Arc Furnaces
Adjustable Inductors for Electrical Test Labs
Power-Line Communication (PLC)
---
You might also be interested in