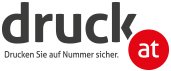 druck.at Druck- und Handelsgesellschaft mbH
Headquarter: Lower Austria
Federal states: Lower Austria
Industry sectors: Service providers, Durable goods, Trade & wholesale, Industry & production, Consumer goods & non-durable goods
0.05 %
Export share
Germany, Switzerland
druck.at is the number 1 in Austria for online publishing. The printing house with 260 employees and government awards was founded in Leobersdorf in 2001. The e-commerce platform offers over 55,000 printed products, which are printed in offset, digital and large-format processes.
Top customer service, free professional data checks, extra-fast production from 1-2 working days and the most up-to-date machinery are just a few of the benefits of printing with druck.at.
Printed products are delivered to customers' homes throughout Austria, or can be collected direct from druck.at in Leobersdorf.
Products and services
The following are produced in top-quality offset, digital and large-format printing with a production time of from 1-2 working days.
– Visiting cards
– Letter paper
– Envelopes
– Flyers
– Banners/placards
– Folders/leaflets
– Posters
– Brochures/newspapers
– Signs
– Adhesive foils
– T-shirts
– Ball-point pens
– and much more
---
You might also be interested in