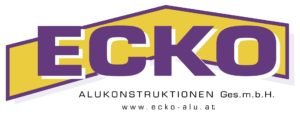 ECKO Alukonstruktionen GesmbH
Headquarter: Upper Austria
Federal states: Upper Austria
Industry sectors: Construction, Industry & production
Status: Recertified
ECKO represents 20 years of experience in the field of modern glass architecture.
Since its founding in 1993, the privately held company ECKO evolved from a small locksmith business to a powerful partner in the Austrian construction industry.
In collaboration with its system suppliers, ECKO delivers and installs only tested and high-quality aluminum elements and tubular steel frame structures. In order to meet the high-quality demands in terms of sound, heat and/or fire protection, intensive and continuous development is required. This is what distinguishes ECKO.
Since 1999, ECKO also educates and supports apprentices for the profession of Metal Construction Technician. So far, 35 apprentices have successfully completed the skilled tradesman program.
The company is based in Engerwitzdorf near Linz which is directly located on the A7, the Mühlkreis roadway and is therefore quickly accessible to customers and suppliers.
References:
Brauquartier Puntigam Graz
Wohnhausanlage Triesterstrasse Wien
BH Kirchdorf
Wohnhausanlage Gemeindeaugasse Wien
Wacker Neuson Reichertshofen ( Deutschland )
TNF Turm an der JKU Linz
Wohnhausanlage Trienna Wien
Bezirks- und Altenpflegeheim Haid
BFI Traun
Sporthalle Liefering
Wohnhausanlage Sonnwendviertel C.08 Wien
KIKA Laxenburgerstrasse Wien
Iveco Hörsching
Volksschule Hütteldorf Wien
Boehringer Ingelheim RCV II Wien
Pflegewohnhaus Rudolfsheim Wien
Campus Messestrasse Wien
Products and services
Consider ECKO as a partner that accompanies you from the initial idea to the finished building.
The experts from ECKO already participate during the project- or contract development phase with the general contractor and architect in order to realize form- and quality requirements together without sacrificing functionality and security. All elements are designed and manufactured in Engerwitzdorf. Qualified installation teams finish the work afterwards.
Renowned clients from construction, industry and commerce use of the extensive range of ECKO products:
■ Alu-Glass Facades/Alu Portals
■ Tubular steel frame elements
■ Aluminum windows and doors
■ Aluminum fire protection constructions E30–EI90
■ Service and maintenance
---
You might also be interested in