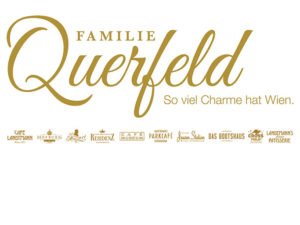 Familie Querfeld
Headquarter: Vienna
Federal states: Vienna
Industry sectors: Tourism, hotel industry, restaurants & catering services
Status: Recertified
Herbert and Anita Querfeld first leased Café Landtmann on 01 March 1976. The Landtmann was already a veritable institution at that time, but the infrastructure and equipment of the grand café were no longer in keeping with the times. Other long-established coffee houses disappeared from the Ringstraße for similar reasons.
Herbert Querfeld not only wanted to offer his guests an authentic setting, but also delicious Viennese pastries to go with the coffee. These were then freshly baked on a daily basis in the cellar vaults of the Landtmann. Everything was done by hand with classic ingredients and according to traditional recipes. Demand grew steadily. In the subsequent years, the family took over additional cafés and successfully brought the Viennese pastry culture over from the headquarters. "Landtmann's feine Patisserie" has supplied them all from a large bakery in Alt-Erlaa since 2006: Café Mozart on Albertinaplatz, Café Residenz in Schönbrunn, Café Hofburg in the inner courtyard of Hofburg Palace, Landtmann's Parkcafé at the Neptune Fountain in the Schönbrunn Palace Park, Café Museum, Landtmann\\'s Jausen Station in the Schönbrunn Crown Prince Garden and the Bootshaus on the Alte Donau.
Each Querfeld family business is completely oriented to its individual potential with a lot of feeling and taste. The Landtmann is not a museum-like coffee house, but rather a lively place for people to meet. All locations are managed by family members and excellent coffee house teams.
Products and services
The Querfeld family has been the epitome of entrepreneurial pioneering spirit since 1976, with which they ensure that the Viennese coffee house tradition is fit for the future. Dedicated people are always welcome in the 10 businesses. In addition to a secure workplace, they offer opportunities, promotion prospects and further training options to 350 employees. This is particularly relevant for younger people. Training is provided for apprentices, who are also hired upon completion of their apprenticeships wherever possible.
As passionate hosts, they maintain a completely natural service attitude. The warmth with which they meet their guests is also felt by their employees.
The success of their 10 different establishments makes them a particularly reliable employer. They attach great importance to being correct and fair. They challenge and support their employees. The family has been faithful to this philosophy for three generations. The Querfeld family is present in the businesses and in constant personal contact with the teams.
---
You might also be interested in