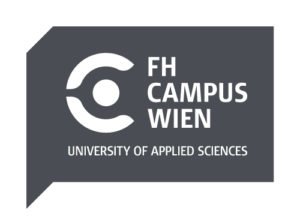 FH Campus Wien
Headquarter: Vienna
Federal states: Vienna
Industry sectors: Education, Research & Development
With around 7,000 students, the FH Campus Vienna is the largest university of applied sciences in Austria. It has five locations in Vienna and seven further cooperation locations: namely the Vinzentinum locations in Linz, Ried and Vienna as well as the KAV locations as schools for general health and nursing SMZ South and SMZ East, Vienna General Hospital (Floridotower) and the Pflegeakademie der Barmherzigen Brüder. Vocational training cooperations ensue with the Vienna KAV, the Vinzenz Group, the Pflegeakademie der Barmherzigen Brüder, the Federal Ministry of Public Service and Sport and the Federal Ministry of Finance. The large network of the FH Campus Wien includes around 150 national and foreign universities and colleges as well as industrial companies, companies, associations, public institutions and schools.
Products and services
The FH Campus Vienna offers services in three areas:
1) Teaching
The goal of the university is to offer students an environment within which they can find professional conditions for successful studies. This is why it pays special attention to teaching and learning, to aligning them in a \\\"study-oriented" manner and to continuously strengthening them at the FH. In the Departments of Applied Nursing Science, Applied Life Sciences, Building and Design, Health Sciences, Social Sciences, Technology and Administration, Economics, Security and Politics, there is a range of more than 60 Bachelor's and Master's degree programmes as well as Master's degree programmes, part-time and full-time, to choose from.
2) Research and development
Research at the FH Campus Vienna is aimed at the major technological, economic and social developments and future topics that will shape and change our world in the years to come. The FH develops degree programmes in diversified disciplines which in turn generate application-oriented, interdisciplinary research projects that are socially and economically relevant and can thrive in an international sphere. Based on this and derived from the future topics, the FH builds up subject-specific competence centres for research and development and makes use of potentials unified under one roof, networks them and bundles the skills.
3) Further education
Campus Wien Academy is part of the FH Campus Vienna and focuses on advanced and further training. It expands the range of courses offered by the University of Applied Sciences through innovative advanced and further education formats at an academic level. In addition, it offers in-house further education and advice. In the context of lifelong learning, Campus Wien Academy identifies the prerequisites relating to the labour market and offers seminars, modules and certificate programmes in response.
---
You might also be interested in