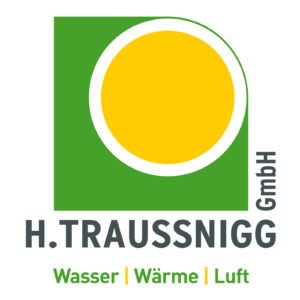 H. Traussnigg GmbH
Headquarter: Styria
Federal states: Styria
Industry sectors: Construction
Status: Recertified
H. Traussnigg GmbH was founded by Hermann Traussnigg in 1974, and today it has its registered office in Köflach. The core competencies of the family-run traditional company lie in the planning and installation as well as the operation and maintenance of ecologically sustainable building installations in the areas of heating, cooling/air conditioning, ventilation and sanitation.
In addition to private customers, the customers mainly include industrial and commercial companies and public corporations. Traussnigg not only offers the wide range of innovative services regionally, but also throughout Central Europe.
Intelligent solutions and sophisticated concepts for the resource-conserving management of water and renewable energies (recovery systems) are the focus. Refurbishments and the complete conversion of commercial and industrial buildings, production and logistics sites, retail parks, food markets, hotels and clinics characterise the classic installation business. Of course, the planning and engineering takes place with the latest software.
The western Styrian company also gained an outstanding reputation as an expert in large tunnel constructions. With a variety of tunnel projects in Austria and Germany, Traussnigg is the first partner when it comes to the installation of fire protection solutions, fire water supply, ventilation systems and air-conditioning systems.
The multi-award-winning company's factors for success include know-how paired with more than 40 years of experience, high quality standards, tailored customer service, the use of the latest and most innovative technology as well as intelligent regulation and control systems, precise planning, professional assembly and longstanding, highly motivated employees.
Products and services
SERVICES FOR PRIVATE CUSTOMERS,
COMMERCIAL AND INDUSTRIAL COMPANIES
• Heating, air-conditioning, ventilation and sanitary installations
• Innovative fire protection solutions and fire water lines
• Sustainable and resource-conserving energy concepts
• Drinking water supply
• Solar and photovoltaic systems
• District heating supply
• Industrial pipework
• Tailored solutions for system maintenance
• CAD planning
• Service and repairs
---
You might also be interested in