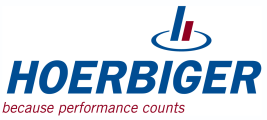 HOERBIGER Wien GmbH
Headquarter: Vienna
Federal states: Vienna
Industry sectors: Industry & production
Status: Recertified
98 %
Export share
worldwide
Everywhere where compressors, diesel or gas engines are in use reliability, economy and safety for humans and for machines play a crucial role. HOERBIGER Kompressortechnik, a business sector of the HOERBIGER Group sees its vision as supporting its customers in the above-mentioned areas and in other challenging situations with its first-class, comprehensive product range.
Technical competency, many years of experience and customized solutions make HOERBIGER Wien GmbH a reliable partner in compressor technology. As one of the largest production sites worldwide HOERBIGER Kompressortechnik in Vienna formed the breeding ground for the successful growth of the HOERBIGER Group.
Products and services
The core competence of HOERBIGER is customer-specific layout, production and maintenance of highly stressed key components for compressors as well as special products for safe and reliable operation of diesel and gas engines.
Among these are:
• Compressor valves
• Sealing systems (seals and gaskets)
• Control and monitoring systems
• Safety technology (relief valves and check valves)
• Gas dosage systems
HOERBIGER products are used in the following industries:
• Oil, Gas and Chemicals
• Air and technical gases
• Tool and plant construction
• Compressor and engine construction
The plant has in-house production depth. Depending on customer requirements very small amounts with a job lot starting at one piece can be individually produced. The leading role in technology which HOERBIGER Ventilwerke has was gained through research and development, engineering, production and application of OEM materials and designs in the metal and special plastics sectors.
---
You might also be interested in