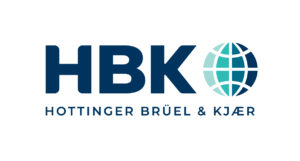 Hottinger Brüel & Kjaer Austria GmbH
Headquarter: Vienna
Federal states: Vienna
Industry sectors: Automotive, Industry & production, Logistics, transport, traffic & infrastructure
Status: Recertified
Hottinger Brüel & Kjaer Austria GmbH was created from the global merger of Hottinger Baldwin Messtechnik and Brüel & Kjaer. This merger strengthens the position of the two world market leaders in the field of Test & Measurement.
Fields of application include:
Experimental stress analysis, noise source identification, production monitoring, power test stands, sound power determination, monitoring and diagnostics, structural analysis, road tests, pass-by applications, material and functional testing, NVH simulation (noise, vibration, and harshness), calibration, as well as industrial weighing technology
In the following industries:
Railways, automotive, mechanical engineering, infrastructure, chemical, and food
Consulting and engineering services, project management:
HBK Engineering supports research, development, and design of measurement tasks. The dialogue with the user forms the basis of customized measurement results.
Services, contract measurement:
The company takes over the complete measurement process including data analysis – from the initial design through sensor installation to data acquisition and documentation.
Patented monitoring systems:
Used worldwide in the rail-vehicle industry, bridge and tunnel monitoring.
Products and services
Sensors:
For force, pressure, torque, displacement, strain, strain gauges, acceleration, and sound pressure
Weighing technology components:
Load cells and mounting accessories; use in areas with potentially explosive atmospheres; evaluation electronics for industrial and legal-for-trade applications
Measuring amplifier systems:
Measuring amplifier systems for R&D; process measurement technology; high-voltage and insulation measurement technology; transient recorders; precision measuring instruments; calibration systems, and calibration services
Software:
catman (data acquisition and processing)
Perception (high data volumes in few seconds)
nCode (calculation of fatigue life and durability)
BK Connect (data acquisition, analysis & reporting, and data management)
NVH simulation (simulation software for noise, vibration, and harshness)
Various analysis software packages for sound level meters
All-in-one solutions:
HBK supplies complete measuring chains for evaluation ranging from electrodynamic shakers through sensors to analysis software.
Services:
Application engineering, calibration, measurement engineering, technical support and installation assistance, training, and seminars
---
You might also be interested in