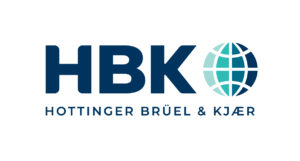 Hottinger Brüel & Kjaer Austria GmbH
Headquarter: Vienna
Federal states: Vienna
Industry sectors: Automotive, Industry, IT & Technology
HBM has been Austria's guarantor for highest quality and reliable measurement results for over 50 years.
The company offers metrological solutions for the electrical measurement of mechanical quantities – for all sectors of industry, including research and development.
Fields of application include:
Experimental stress analysis, production monitoring, performance test stands, monitoring and diagnostics, driving tests, material and functional testing, calibration and industrial weighing systems.
In the following industries:
Railway technology, automotive, mechanical engineering, infrastructure, chemical, food.
Consulting and engineering services, project management:
HBM Engineering supports with the research, planning and design of measurement tasks. The dialog with the user forms the basis for tailored measurement results.
Services, contract measurement:
The company assumes complete responsibility for the execution and evaluation of measurement tasks – from conception through application of sensor technology all the way to data acquisition and documentation.
Patented monitoring systems:
In use worldwide in the railway industry and bridge and tunnel monitoring.
Products and services
Sensors:
For force, pressure, torque, displacement, strain, strain gauges
Weighing components:
Load cells and mounting aids; also for use in potentially explosive environments; evaluation electronics for industrial and legal-for-trade applications.
Signal conditioning systems:
Signal conditioning systems for R & D; industrial metrology; high voltage and insulation measurement technology; transient recorders; precision measurement technology; calibration and calibration services.
Software:
EVIDAS (Data Acquisition Software with Cloud Integration)
Perception (large amounts of data in a few seconds)
nCode (calculation of lifetime and durability)
Complete solutions:
From the sensor to the software, HBM delivers complete measurement solutions for evaluation.
Services:
Application engineering, calibration, measurement engineering, technical and installation support, training and seminars.
---
You might also be interested in