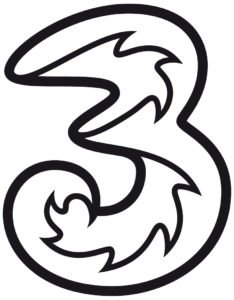 Hutchison Drei Austria GmbH
Headquarter: Vienna
Federal states: Vienna, Lower Austria, Upper Austria, Salzburg, Tyrol, Vorarlberg, Burgenland, Styria, Carinthia
Industry sectors: Trade & wholesale
Status: Recertified
Hutchison Drei Austria GmbH is a fully owned subsidiary of CK Hutchison Holdings Limited (Hong Kong) and member of 3Group Europe. Since its launch in 2003, the company has pioneered the use of simple solutions for digital life, such as fast mobile internet for the home, TV, film and music services.
In addition to the largest shop network of all Austrian mobile network operators and a comprehensive customer service for private and business customers, Drei also has the densest and most powerful LTE network in the country with a population coverage of 98 percent. Drei has already emerged at the top multiple times in the leading network test by the independent trade magazine connect. Drei came top in the Austrian telecommunications industry in Austria's largest service ranking for the second time in a row and thus was awarded the title "Service Champion" (08/2017). Drei was the overall winner in the business tariff test by the Austrian Association for Consumer Studies and also achieved victory for scope of offering, tariffs & conditions (Austrian Association for Consumer Studies 02/2017).
On 31 October 2017, Hutchison Drei Austria completed the acquisition of Tele2 Austria.
Products and services
With Tele2, Drei has become a fully integrated full-service provider for fixed network, mobile network, TV, broadband access and IT services and thus creates new, innovative offerings for private and business customers in Austria.
With numerous offerings, Drei provides tailored communications solutions for any enterprise, whether it is a one-person business, SME or major customer, which support them on their way to success.
The highlights at a glance:
Attractive tariffs and additional packages:
Drei offer attractive tariff solutions for telephone calling and internet surfing with or without a device. Furthermore, each customer can secure even more data volumes and useful services for leisure and work with additional packages.
Personal service.
Good service begins with personal support. The 3 business advisors also support one-person businesses.
Innovative business products:
• IoT solutions.
Drei already offers its customers the technology of the future in the areas of Internet of Things and Machine to Machine: from IoT Complete, the integrated online platform for entry to the Internet of Things through to Cisco Jasper, the strong control centre platform, which can be used by companies to quickly implement their specific IoT solutions.
• 3Cloud business.
Mobile working in the cloud. Important data stored safely and available at any time. Sharing data in companies has never been easier and safer.
---
You might also be interested in