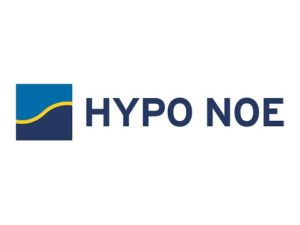 HYPO NOE Landesbank für Niederösterreich und Wien AG
Headquarter: Lower Austria
Federal states: Vienna, Lower Austria
Industry sectors: Financial & insurance services
Status: Recertified
Founded as Niederösterreichische Landes-Hypothekenbank in 1888, the HYPO NOE Group looks back on a long tradition and experience in the banking and financial sector. Following partial privatisation in 1996, the banking group has been entirely owned by the province of Lower Austria since 2007. As the parent institution in conjunction with HYPO NOE Leasing, the HYPO NOE Group mainly serves large clients in Austrian provinces and municipalities, and also selectively in the Danube area region.
Together with the subsidiary HYPO NOE Immobilien, the HYPO NOE Group is able to cover the entire life cycle of a property from one source due to its real estate service chain.
The retail subsidiary HYPO NOE Landesbank is a universal bank for private, freelance and corporate customers in Lower Austria and Vienna; particular thematic focuses include housing and family, education and health. Around 75,000 customers trust in Landesbank, which is characterised by regionality and customer proximity. 26 branch offices in Lower Austria and Vienna are the hub and base for successful customer relations.
Products and services
The HYPO NOE Group is a competent partner for Public Finance, Corporate & Project Finance, Real Estate Finance and Treasury in the core market of Lower Austria and Vienna, as well as selectively in the Danube area region. Real estate financing in the asset classes of Office, Retail, Logistics and Hotel is offered in the area of Real Estate Finance. Customers in the business areas of churches, interest groups and agriculture are supported with top-quality advisory services on the basis of sustainable financing and investment concepts.
---
---
You might also be interested in