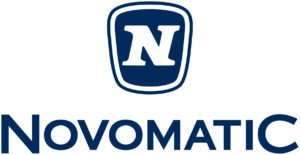 NOVOMATIC AG
Headquarter: Lower Austria
Federal states: Lower Austria, Upper Austria, Burgenland, Styria, Carinthia
Industry sectors: Gaming, IT, online service providers, telecommunications
97 %
Export share
more than 70 countries
Founded in 1980 by the entrepreneur Prof. Johann F. Graf, the NOVOMATIC Group is one of the largest gaming technology companies in the world, employing more than 25,000 people (around 3,300 in Austria). As one of the leading technology groups in Austria and an exporter to over 70 countries, controlled growth is deeply rooted in the company's philosophy.
Its core markets are mainly Central Europe in addition to Eastern and Southeastern Europe. In future, the focus will also be on expanding its market position, especially in the USA, Australia, Asia and South America. The acquisition of the Australian gaming technology group Ainsworth Game Technology Ltd. represents a strategically important step which strengthens the Group's position in the US while opening up new markets such as South America, Africa and Asia. NOVOMATIC pursues the strategy of covering all segments of the gaming industry as a global full-service provider. The Group offers its products exclusively in regulated markets with clear legal frameworks.
In addition to its headquarters in Gumpoldskirchen, the Group, which has more than 4,000 IP rights, operates 14 production sites and 27 technology centres in Germany, the United Kingdom, Spain, the Netherlands, the Czech Republic, Hungary, Poland, Russia, Iceland and Argentina. Its role as a trendsetter in the gaming industry in R & D is a direct result of this.
Products and services
The NOVOMATIC Group is a global exporter of innovative gaming equipment, system solutions, lottery-system solutions and services. It operates more than 260,000 gaming terminals and video lottery terminals (VLTs) in some 2,100 of its own electronic casinos as well as via leasing models. It has casinos in Spain, Croatia, Macedonia and the Netherlands, as well as Germany's biggest-selling casino (in Berlin).
With 250 locations, ADMIRAL Sportwetten GmbH is Austria's strongest sports betting provider for the industry. The subsidiaries Greentube Internet Entertainment Solutions GmbH and NOVOMATIC Lottery Solutions GmbH strengthen the Group in the area of online, mobile and social gaming as well as lottery technology.
Apart from creative gaming ideas and technological innovation in its area of business, the Group also focuses on responsible gambling. NOVOMATIC sets new standards in responsible gaming. By implementing prevention and access-control systems to prevent pathological gambling in cooperation with scientific institutions and organisations in the field of match-fixing assistance, responsible gambling is no longer a contradiction. NOVOMATIC also supports a wide range of activities in the areas of social affairs, culture, science and sports as part of its corporate responsibility.
---
---
You might also be interested in