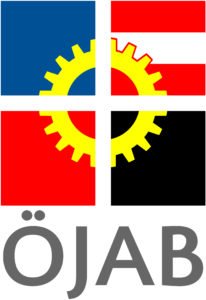 ÖJAB – Österreichische Jungarbeiterbewegung
Headquarter: Vienna
Federal states: Vienna, Lower Austria, Salzburg, Burgenland, Styria
Industry sectors: Education, research & development, Service providers, Care services & homes, Tourism, hotel industry, restaurants & catering services
Status: Recertified
Responsibility Life.
ÖJAB, a non-profit organization, is one of Austria´s largest residency organisations and a youth organisation independent of any political party or religious obligation.
For over 70 years, meanwhile about 640 employees in 38 locations work for
• about 4200 places to stay for youths and students near their education and training institutes as well as in intergenerational dormitories
• about 600 places for seniors in mobile and in-patient nursing and care as well as in intergenerational dormitories
• about 2.000 youths and young adults every year in education measures with the objective of qualification for the job market
• about 120 persons every year in training projects of development cooperation in Burkina Faso.
ÖJAB offers every entrusted person the home and the affinity which are necessary for growing, learning and maturing.
The defined goal is supporting people to learn living their life independently regardless of the conditions and their age.
Underprivileged persons and persons with special needs are accompanied and promoted.
ÖJAB was founded by Dr. Bruno Buchwieser in 1946 during the reconstruction of Vienna´s St. Stephen´s Cathedral.
Products and services
ÖJAB has four main areas of operation:
1. Students and Youth
A home away from home is created in the dormitories. Students experience a cosy and comfortable atmosphere with managers who live on-site.
2. Senior citizens and Care
In the nursing homes professional nursing and care, activation and mobilisation is the essential concept along with sensitive consideration for individual needs.
3. Education and Integration
Apprentice training, language, vocational training and diverse bridging measures enable youths and young adults to find their way into the job market. In the field of education and training, the focus lies on the confident relationship with instructors, coaches and social pedagogues. It is the basis for learning, discipline and enjoying the training.
4. Development cooperation in Burkina Faso
Special emphasis is placed on obtaining professions with the aim of self-containment.
Two subsidiary companies support ÖJAB´s social mission:
• Europahaus Wien GmbH – Education, Conference and Event Center in Vienna Hütteldorf
• myNext – hostels, hotels, apartments uses ÖJAB dormitories during holidays
---
Links & Downloads
---
---
You might also be interested in