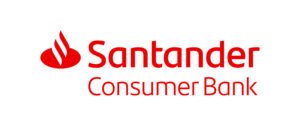 Santander Consumer Bank GmbH
Headquarter: Vienna
Federal states: Vienna, Lower Austria, Upper Austria, Salzburg, Tyrol, Vorarlberg, Burgenland, Styria, Carinthia
Industry sectors: Financial & insurance services
Status: Recertified
Santander Consumer Bank Austria is a leading provider of financial services for consumers and it has been active in the market since 2009. The financial institution is a leader in durables financing as well as the largest brand-independent provider of car and motorcycle financing in Austria with more than 2,600 partners from the durables and automotive business. The company employs around 450 employees and operates 29 branches throughout Austria. With its customer service centre in Eisenstadt, the financial institution is a major regional employer. The bank has an Austrian banking license and is subject to the statutory deposit protection scheme in Austria.
As part of the Spanish Banco Santander, the Santander Consumer Bank Austria is a member of one of the largest banking groups in the euro zone measured in terms of stock market value. Its local business strategy is therefore aligned to the overall strategy of the Santander Group. The focus is on private and corporate business in the ten core markets in Europe and America. With more than 191,000 employees and 148 million customers, the Santander Group is among the leading global financial institutions (as of 31.12.2020). Banco Santander, S.A was founded in Spain in 1857.
Products and services
The bank's product portfolio includes cash loans and card products, instalments for online shops and at the point of sale, car loans and leasing, and insurance policies. Furthermore, Santander is also engaged in deposit banking and offers online sight-term and fixed-term deposit savings accounts.
---
---
You might also be interested in