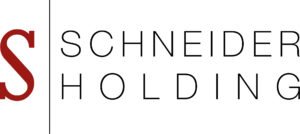 Schneider Holding
Headquarter: Lower Austria
Federal states: Lower Austria
Industry sectors: Service providers, Trade & wholesale, Holding, , , Tourism, hotel industry, restaurants & catering services
Status: Recertified
Schneider Holding is a holding company owned by Katharina and Dieter Schneider. The company has developed successfully since its foundation in 2007, and focusses on helping to shape the company with the sure hand of experience, through positive earnings and providing confident support to all holding companies as equals.
The Schneider Holding group includes, among others,
– Schneider & Partner tax consultancy,
– Mediashop,
– Embers Call Center & Marketing,
– MSC Management, with its own hotel,
– Infinity Innovative Projects, and
– Candidate – the dating app.
Products and services
Media shop is an internationally operating TV shopping company which is worldwide successfully active .
Schneider & Partner is one of the leading tax consulting firms in southern Lower Austria.
Embers is active in the sectors of order acceptance, customer service for trade, mail-order business, teleshopping, and food service for clients.
---
Links & Downloads
---
---
You might also be interested in