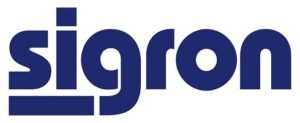 Sigron Handels- und SchulungsgmbH
Headquarter: Vienna
Federal states: Vienna, Upper Austria, Salzburg, Vorarlberg, Styria
Industry sectors: Education, research & development, Trade & wholesale
Status: Recertified
5 %
Export share
Hungary, Romania, Macedonia
Sigron: The basis for professional cleanliness for over 40 years.
With the aim of always being at the cutting edge of technological development and finding the most efficient solution for each task, customers now receive individual support at nine locations throughout Austria and Eastern Europe. Its portfolio ranges from the competent advice on the compilation of suitable complete packages through to the maintenance of machines sold.
The heart of Sigron is its head office in Vienna. Market innovations can be tested by the customers themselves in the large showroom. The innovative warehouse and logistics centre ensures fast delivery, regardless of whether it concerns small or large orders. Various logistics tasks can even be taken over from the customer.
The comprehensive expertise of the employees and personal contact with customers in all areas of activity are most important for Gerhard Komarek and Sabine Weigert, the two shareholders. \"We are always delighted with the commitment and inventiveness shown by our employees when translating the unusual requirements of our customers into reality, which is certainly a reason why we have a large number of loyal customers. We also contribute to ensuring the high quality standards of our industry for the future with our wide range of training and further training opportunities \", says Gerhard Komarek.
Products and services
Since 1973, the company has traded in cleaning chemicals, equipment and machines and it has gradually climbed to the top of its industry.
From the universal basic cleaner to the ecological detergent, from the fine crevice nozzle to the large automatic scrubber – find everything you need for professional cleanliness at Sigron.
However, it is not only trading that is being driven forward: Sigron has also been actively involved in the further development of cleaning and hygiene technology since 2003. Professional and managerial staff are trained in the cleaning of monuments, facades and buildings at its own training centre. For this purpose, there are five detailed areas, among others, in which the specific requirements of commercial kitchens, hospital and hotel rooms as well as sanitary and office rooms can be learned with a practical orientation.
---
You might also be interested in