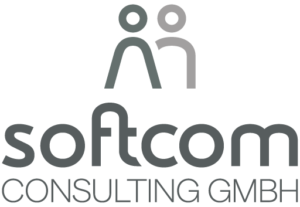 SOFTCOM CONSULTING GmbH
Headquarter: Vienna
Federal states: Vienna
Industry sectors: Construction, Education, research & development, Service providers, Financial & insurance services, IT, online service providers, telecommunications, Logistics, transport, traffic & infrastructure, Pharmaceuticals, health & biotechnology, ,
Status: Recertified
SOFTCOM is an independent, Austrian service company with headquarters in Vienna and more than 27 years of experience in the ICT sector.
The company sees its predominately long-term customers as partners, which it advises with the highest standards of quality (ISO 9001), sustainability and a sincere readiness to accept responsibility. Professionalism, quality and service are a fundamental part of the company. It also covers all points of the Europeans standard EN 16114 for corporate consulting. And it has been economically successful since its founding.
Products and services
Decades of project experience in IT and telecommunications provide a foundation for the broad range of services the company offers its customers.
Specialities include open-source software, BI & advanced analytics, project management (management, business analysis, requirements engineering), operation-system management (NW, MS, Unix/Linux), development (Java) and security.
The focus on open-source software also means a responsible and sustainable approach to resources.
INDEPENDENT CONSULTING
Our management services
• Strategic, organisational and personnel development
• Preparation of decision foundations
• Project management
• Security management
• Quality management
APPLICATIONS
• Application development and project management for software-development projects
• Quality management / testing
IT INFRASTRUCTURE
• Planning, optimisation, migration
• From data centres to the (mobile) workplace
• Voice and data networks
• Technical support, operational concepts
EXPERTISE: SPECIALISATION AND METHODS
• Project management (PMA, PMI, SCRUM)
• Business analysis (IREP, CBAP)
• Organisational consulting
PROVISION OF PERSONNEL
Flexible support from experts:
• Project managers
• Process managers
• Business analysts
• System and network administration
• Software developers
---
You might also be interested in