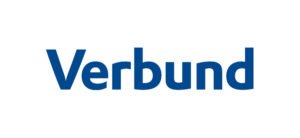 VERBUND AG
Headquarter: Vienna
Federal states: Vienna, Lower Austria, Upper Austria, Salzburg, Tyrol, Styria, Carinthia
Industry sectors:
Status: Recertified
VERBUND is Austria's leading electricity company and the largest producers of hydropower electricity in Europe.
VERBUND represents the highest level of competence and know-how in electrical power. With its subsidiaries and partners, VERBUND is actively involved from electricity generation to its transport and on to international sales and marketing. We are one of the largest investors and taxpayers in Austria. Investments in power plants and electricity grids play a major role in creating high added value and safeguarding and creating jobs.
Electricity from hydropower
In Austria, nearly 65% of electricity generation is covered by hydropower, and more than half of this comes from VERBUND hydropower plants. Because close to 100% of our electricity generation comes from climate-friendly, renewable hydropower. VERBUND's Danube power plants alone can cover the electricity needs of nearly all private households in Austria.
Environmental protection
About 50,000 animal and 3,500 plant species live near our power plants. We do everything we can to ensure that these fauna and flora can keep their habitats within our spheres of action. For this reason we invest in environmental projects and ecological measures to safeguard the biodiversity of plants and animals.
Employees
Our approximately 2.700 employees make us one of the companies with the greatest economic power in Austria. In addition, VERBUND puts its employees at the center of their development.
Products and services
VERBUND develops energy services for all customer segments with know-how in the field of energy economics and in dialogue with customers.
The offer ranges from decentralized systems for power generation from renewable sources (especially photovoltaics) to energy storage and optimization, participation in the balancing energy market and new solutions based on green hydrogen as well as electromobility.
Upon request, all VERBUND products can be obtained from 100 % hydropower from TUV SUD – certified hydroelectric power plants. This benefits not only the environment but also the ecological balance of your company.
---
You might also be interested in