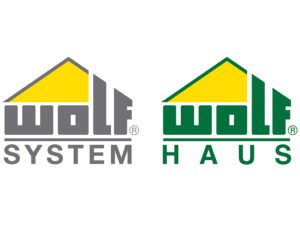 Wolf Systembau Gesellschaft m.b.H.
Headquarter: Upper Austria
Federal states: Upper Austria
Industry sectors: Construction, Industry & production
Status: Recertified
20 %
Export share
Europe, Russia
WOLF Systembau in Scharnstein (Upper Austria) is one part of the WOLF Group which operates throughout Europe and is known in the marketplace under the brands of WOLF Haus and WOLF System as the specialist for pre-fabricated houses, construction of cellars, production and storage buildings, and concrete tanks.
The WOLF Group was established in 1966 and since then with 50 years of experience behind it has developed into an internationally successful enterprise. Around 5,000 round tanks made of reinforced concrete, 3,500 buildings and 650 pre-fabricated houses are erected annually. Wood, steel, concrete and sophisticated combinations of materials enable economic solutions which are customized to suit the demands and requirements of individual customers.
In addition to the main sites in Scharnstein (A) and Osterhofen (D) the WOLF Group has another 24 branch offices in 20 European countries. With a total of 3,000 employees the WOLF Group is one of the leading companies in their industry.
WOLF Systembau in Scharnstein is the largest employer in the Almtal region. The Scharnstein site is a major cornerstone of the Group. Over the last few years large investments have been made in retaining the site with new buildings, infrastructure and machinery. This on-going modernization makes the high standard of quality of materials and processing which the company has set for itself possible.
Solid knowledge, creativity and the many years of experience of the company\\'s employees are the foundation for their competitiveness and for further development of their products and services.
Very well-trained and highly motivated assembly staff shoulder the responsibility for smooth construction processes and therefore for the long-lasting satisfaction of their customers.
Products and services
Prefabricated houses and cellars
Stables for cattle, pigs, horses and poultry; buildings for production machinery and warehouses.
Industrial and office buildings, sport and leisure facilities
Concrete tanks, silos, biogas plants
Nail plates
---
You might also be interested in