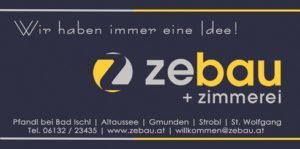 Zeppetzauer Bau- & Zimmerei GmbH
Headquarter:
Federal states: Upper Austria, Styria
Industry sectors: Construction
Status: Recertified
Every home has its place and every soul has its own home – this is the philosophy of the company ZEBAU.
We get together with the client – ask 100 questions to find out how they imagine living, life and their home. Only then can planning begin and only then can costs be estimated. When we listen carefully, the future result is a happy and satisfied customer.
Company Director Josef Zeppetzauer always tells his employees: "Work in such a way that you would like to have it yourself and you will still be friendly with the customer after many years."
The ZEBAU range of services:
Planning:
All types of planning – from simple line drawings and submission plans through to all presentations that modern computer technology has to offer.
Construction:
* House construction and new construction
* Conversions and extensions
* Stylish renovations and professional refurbishments
* Repairs and corrections
* Conservatories and verandas
* Swimming pools and garden ponds
* Car ports and garages
* Wine cellars
* Industrial construction and commercial construction
* Outdoor landscaping (paving, garden walls, etc.)
Carpentry:
* Agricultural buildings
* Garden sheds and arbours
* Log house construction and timber frame construction
* Window replacement
* Construction measures in high alpine regions
Real estate:
Commission-free real estate in Bad Ischl and throughout the Salzkammergut. Direct from the developer!
Handcraft is a TOP priority for Zeppetzauer Bau- und Zimmerei GmbH! The strengths include, among others, building refurbishment in historically sensitive areas (e.g. monument conservation), or even in completely "normal construction" where craftsmanship is required. Old techniques – with wood, brick and mortar – are part of day-to-day business and not the exception.
Products and services
Josef Zeppetzauer founded Zeppetzauer Bau- und Zimmerei GmbH in 1985.
At that time, the company philosophy was that of a small, exclusive company that offered das skilled craftsmanship at the highest level with qualified employees. Now, a good 30 years later, the small company has become a large company – for the conditions in the Salzkammergut – which is still privately owned and managed by Josef Zeppetzauer.
Around 150 employees, mostly craftsmen of the old school and expert technicians, enjoy their work. ZEBAU provides everything from one source, from the first pencil stroke in the planning and all trades (also as general contractor) through to the hand-over of keys. In particular, ZEBAU is renowned and sought-after for professional refurbishments and stylish renovations, as well as special new constructions, in the Salzkammergut and beyond.
---
Links & Downloads
---
You might also be interested in