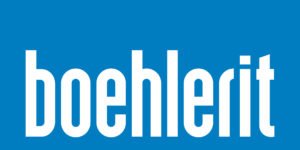 Boehlerit GmbH & Co. KG
Headquarter: Styria
Federal states: Styria
Industry sectors: Industry & production
Status: Recertified
86 %
Export share
Europe, North- and Southamerica, Asia
Carbides and tools from Boehlerit set standards in the processing of metal, wood, plastic and composite materials.
The cutting material and tool specialists from the steel city of Kapfenberg in Styria solve the most challenging processing tasks with materials of the future due to their 'proximity to the steel laboratory'.
The Boehlerit brand was founded in 1932 for the hard metal production of steel manufacturer Böhler in Düsseldorf. The construction of a second hard metal production facility in Kapfenberg/Austria began in 1950 at the current head office of the Boehlerit Group. Meanwhile, Boehlerit also has production and sales locations in Germany, Spain, Turkey, Hungary, Czech Republic, Slovakia, Singapore, China, USA, Poland, Brazil and Mexico. With further exclusive sales partners and together with the Bilz Group, Boehlerit has a presence on almost all continents, in more than 25 industrialised countries.
Products and services
– Carbidesl & tools for machining
– Carbides & tools for metal processing
– Carbides & tools for the automotive industry
– Carbides wear parts
– Carbides & tools for non-cutting forming
– Carbides for wood processing
Cutting materials, semi-finished products and precision tools, as well as tool systems for milling, turning, drilling and reshaping ensure process reliability and efficiency worldwide. The extensive Boehlerit product range also includes highly specialised tools for crankshaft machining and the metallurgical engineering for bar peeling, tube and sheet metal forming and heavy-duty cutting. Another of Boehlerit's strengths lies in hard metals for construction parts and wear protection. Boehlerit also has a globally unique position in the field of coating technology from the world's first Nano-CVD bonding layer through to the hardest diamond coating. Furthermore, Boehlerit is a competent development partner for toolmakers with its many years of expertise in metallurgy, coating technology and the latest press technology.
---
You might also be interested in