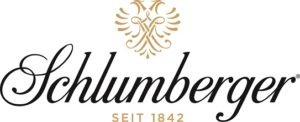 Schlumberger AG
Headquarter: Vienna
Federal states: Vienna
Industry sectors: Food & beverages
Status: Recertified
40 %
Export share
worldwide
Since 1842, Schlumberger has produced sparkling wine of the highest quality for the domestic market and the entire world.
The company relies on Austrian quality in production and has been able to position the extremely strong and well-known brand in both catering and retail. Schlumberger is the undisputed market leader in this category. Its export success also justifies its strategy of combining tradition with innovation and the highest quality standards – It aims in the short term to sell every second bottle outside Austria.
Schlumberger has set the strategic goal not only of defending its market position and quality leadership in Austria but also expanding it.
The company is aware of its social responsibilities and is very active in promoting sustainable and forward-looking measures.
Products and services
Production of the highest-quality sparkling wine
Private label sales through its 100% subsidiary Top Spirit
Exclusive distribution of the most prestigious brands in the categories of spirits, wine, Champagne, Prosecco, and non-alcoholic drinks
The Schlumberger Cellar World in 1190 Vienna
---
---
You might also be interested in