On May 10, 2022, ATOSS will be hosting the International Workforce Management Summit under the motto "Unlock the full potential of your workforce!". The digital event will be held in English and is addressing companies of all sizes and sectors in the DACH region, the Benelux countries and Scandinavia.
Presentation: Workplace Technology can unlock a better future for frontline workers
Time: 9.15
Presented by Celine Garbi Joergens, Microsoft
According to the Work Trend Index from Microsoft, 63% of frontline workers and managers consider state-of-the-art technology in the workplace to be a feel-good factor and an opportunity to reduce workload. Added to that, COVID-19 challenges made digitalization in the workplace indispensable. User-centered software and BYOD (bring your own device) solutions proved to be a pragmatic way to integrate frontline workers without laptops, PC workstations and corporate e-mail addresses digitally. Self-services and apps make data and workflows accessible to everyone – from employees on the shop floor, in stores, or on a business trip.
Celine Garbi Joergens, Hybrid Work Business Lead Germany at Microsoft, gives insights on employee centric technology as an enabler for frontline workers.
Presentation: How do you balance the interests of the company and the employees?
Time: 11.30
Presented by Jens Steinhorst, HORNBACH
This ATOSS customer case will show how digital workforce management can help to avoid the "Big Quit" by granting individual working time organization for all employees. Because according to the global Microsoft Work Trend Index, flexible working hours are a relevant decision-making factor in choosing and staying with an employer.
A short overview on the topic: working time accounts give employees a say in the timing and scope of their working time. Self-determination can increase motivation and satisfaction, and in the long run reduce fluctuation and sickness rates. A satisfying employee experience then creates a good customer experience. Digital workforce management solutions offer full transparency and the option to balance employee and company needs without compromising. Desired work schedules and swap exchanges give all employees access to a life-phase-oriented work schedule, intuitively, barrier-free and multilingual.
Presentation: Future of Work – Impacting HR in 2022 and beyond
Time: 12.00
Presented by Dr. Florian Dreifus, SAP
Let's look at a couple of challenges: skills shortage Is accelerated by the "Big Quit", employees are demanding more flexible working models and/or remote work options, and skill sets need to be adjusted due to a volatile environment of markets.
HR management takes on the strategically important task of bringing organizations into the working world of the future. Digitilization, flexible working hours and efficient corporate processes play a decisive role in coping with fluctuations. This only works if the entire organization is able to support flexibility and the respective tools are available. Collaboration tools, networking systems and intuitive HR software like workforce management apps or self services, integrate employees and support the trend towards individualization of work. In this presentation Dr. Florian Dreifus, COO SuccessFactors Middle- & Eastern Europe at SAP, views on the future of work and what that means for HR.
The digital event wants to show companies how to implement flexible, efficient, and employee-centric work. As Dirk Häußermann, ATOSS Co-CEO, outlines: "Digital Workforce Management creates the flexibility that is so urgently required today to make companies more competitive. Flexible working concepts, agile HR processes and data-based planning are key for satisfied customers and satisfied employees."
Register here for free and enjoy a day full of expert presentations, discussions, and best practices around the topic of digital workforce management.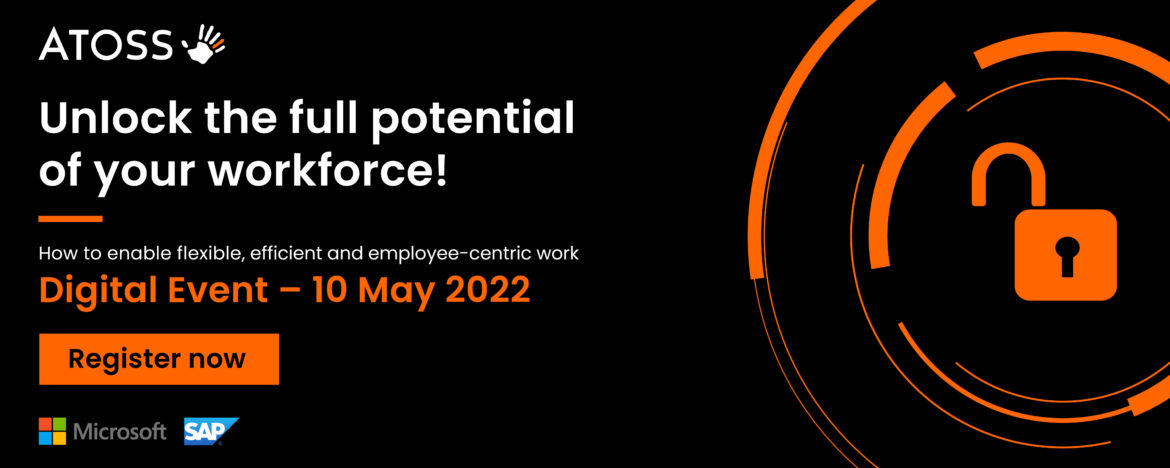 Continue to company profile