Fritz Eiber, Managing Director of Molto Luce, in conversation with Leitbetriebe Austria Managing Director Monica Rintersbacher, about the possibilities of sustainable economic activity as well as searching for and finding employees.
Monica Rintersbacher: Today we are guests of Molto Luce and we would like to talk to you, Mr Eiber, about sustainability, environmental responsibility and climate targets. Could you please first tell us a bit about the company Molto Luce?
Fritz Eiber: We deal with lighting and we are responsible for projects in all areas, such as industry, architecture, but also tourism and retail. For example, we design business equipment for large retail chains in Austria and we also work very closely with shopfitters. Our strength lies in our ability to work from the inside out and from the outside in, as they say. We undertake projects together with architects and developers.
Monica Rintersbacher: You manufacture for retail and offices, but you also have a showroom which is where the product design is brought into focus. So people can buy your products for the home or the office?
Fritz Eiber: Exactly, that's also possible, whereby we make most of our turnover from equipment for real estate. The classic office lights in an office or on a desk – that is just a small segment.
Monica Rintersbacher: They are for enthusiasts.
Fritz Eiber: Absolutely, the products are designed especially for those who want something special.
Monica Rintersbacher: It is particularly pleasing that your company has been on the market for such a long time.
Fritz Eiber: We've been around for 41 years. We started as a one-man operation, we have grown and proven ourselves. We come from classic retailing and we established distribution in Austria. We've had our own production facility for 15 years and our proportion of own products is currently at over 60 percent.
Monica Rintersbacher: It is equally pleasing that you manufacture in Austria.
Fritz Eiber: We manufacture in Austria, more precisely in Weißkirchen, which is 12 kilometres away from our headquarters. This is currently our largest site with 250 employees. The site in Weißkirchen has developed very well and we are proud that we can manufacture and realise all of our projects here in Austria.
Monica Rintersbacher: This also has great deal to do with responsibility because you save a lot of transportation journeys by manufacturing in Austria. How do you coordinate production so that it is as sustainable as possible?
Fritz Eiber: This is a major challenge. We make sure that we keep journeys short and we work with nearby companies in Italy and Germany. The largest challenge currently lies in the electronics sector with the chips. Everyone in the sector has a headache right now. All I can say is that we have come through these hard times relatively well – even the decision to hold more stock is an advantage. We built our own warehouse where we stockpile raw materials. Accordingly, this was a good investment for us.
Monica Rintersbacher: So you have enough materials in stock.
Fritz Eiber: Of course, it's easier to evaluate what we have done right with hindsight: We adjusted to the situation in good time and we manufacture the LEDs in Weißkirchen with our own assembly facilities. This also helped us a lot during this difficult period.
Monica Rintersbacher: You are in a sector that has a great deal to do with ecologically-efficient production as well as ecologically-efficient consumption. What topics are you currently dealing with here?
Fritz Eiber: We are working intensively on packaging. We no longer use plastics, we recycle everything and we use paper. We have our own carton packaging machines: We hereby chop and shred the carton packaging and then reuse it as packaging material. Furthermore, we have photovoltaic systems in Weißkirchen in production and the new production hall, which we call WEKA 5, which is a new powder-coating facility with heat recovery. We are working very intensively on sustainability.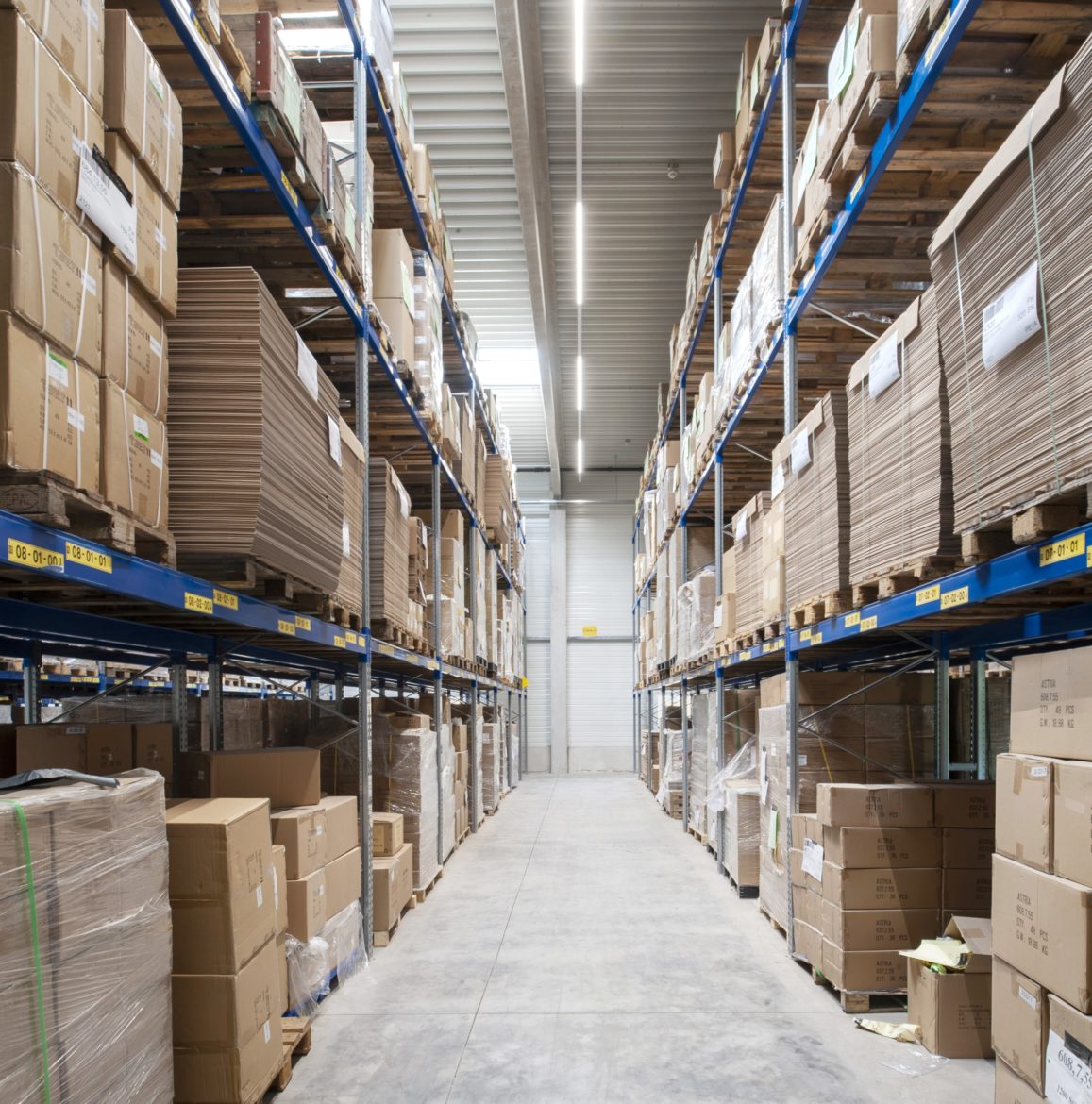 Monica Rintersbacher: Can we return to the topic of powder coating and heat recovery again? Is this a material that goes on the lights? Where are savings made here?
Fritz Eiber: We save both energy and the powder on the product – it is recycled – and we also save water for cleaning.
Monica Rintersbacher: You place great emphasis on recycling management in production. You manufacture lights. What about power consumption?
Fritz Eiber: Currently, it is mainly just LED lights on the market. We produce 80 percent of our electricity ourselves in Weißkirchen. At some point you reach the end with energy-saving measures, now it's all about lighting controls: You can set them in such a way that less light is used in the mornings and the lights then provide more light when the weather turns darker again. This is the big issue at the moment, both in the industrial sector and in offices.
Monica Rintersbacher: If you had one wish from a business perspective, what would it be? What do you need in order to optimise your business?
Fritz Eiber: More employees.
Monica Rintersbacher: What is your current situation?
Fritz Eiber: Very difficult. There are many top companies at our location in Wels and Upper Austria has an unemployment rate of 3.5 percent. So it's really difficult.
Monica Rintersbacher: That means there is no one. There are also no unemployed people who you could retrain. So there are no suitable people here.
Fritz Eiber: We have 30 people in development in Weißkirchen, including two Spaniards and two Czechs. We also continue to ensure that we recruit employees from abroad.
Monica Rintersbacher: Is this successful? Are the people willing to move to Austria?
Fritz Eiber: It's increasingly successful. We are also currently considering whether to build a residential building for employees with 20-30 apartments, so that we can offer them accommodation, even if they only work for us for two or three years. We could support foreign employees this way. This way they would not have to deal with the housing market and they would also not have to pay a deposit. On the one hand, they could be one-room apartments, but they could also be larger apartments for families with children. There are a lot of ongoing internal discussions to this end.
Monica Rintersbacher: How many job vacancies do you have at the moment?
Fritz Eiber: 25. We hardly get any employees from the AMS at most in production for simple jobs.
Monica Rintersbacher: Nevertheless, business is good and the order books are full. We are delighted about this. Many thanks for the interview!
Fritz Eiber: You're welcome!
Continue to company profile